POCUS in Cardiology
Clinicians can better assess and manage patients when cardiac ultrasound is performed at the point of care. Many departments within the hospital and also pre hospital, benefit from using POCUS for exams ranging from a quick look to quickly triage a patient, to more complex examinations where a more complete diagnosis is required. With the latest technologies to support clinicians, including AI, the role of POCUS is expanding.
Common uses of POCUS for Cardiology 
Goal Directed Echo
IVC Collapsibility and volume status
RUSH exam
Cardiac Function
Valve disease
Monitoring effusions 
Kosmos Advantages in Cardiology
Kosmos will help you with all your point-of-care cardiac requirements – not just by offering top-tier image quality but also providing all the feature modalities required for full cardiac evaluation like CW, PW, TDI, and color flow Doppler capabilities. With our advanced AI for cardiology, Kosmos provides effortless reports for evaluating cardiac function and valvular pathology, reducing layers of testing and cost.
Image Quality – With proprietary PZT transducer technology, the Kosmos images are sharp even at increased depths.

Only Ultraportable Device –

With Pulsed Wave, Tissue Doppler Imaging, and Continuous Wave Doppler to assess valvular stenosis, pulmonary HTN, and estimation of cardiac filling pressures.

Why Wait for Answers – Our full suite of cardiac features on Kosmos provides immediate answers to support clinical decisions at the bedside or clinic.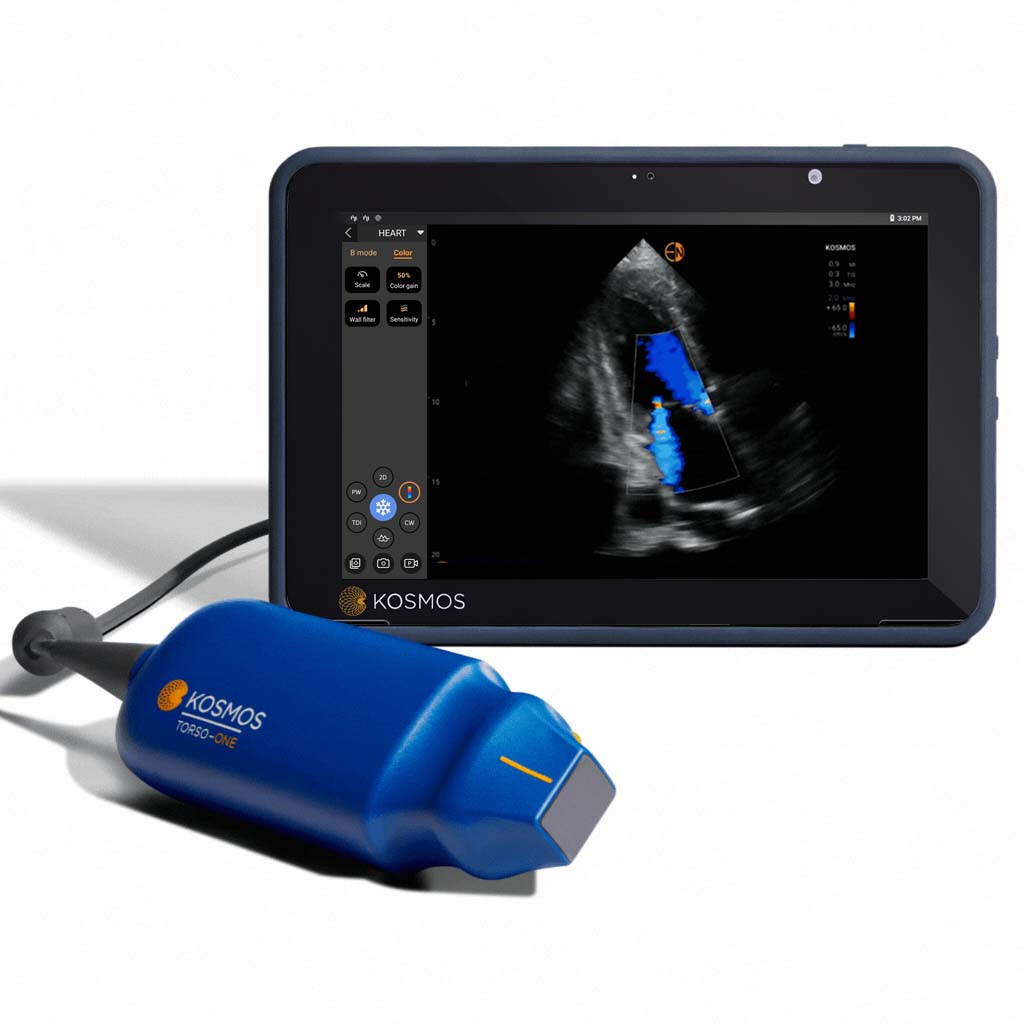 Cost-Effective Solution – Save time, money, and resources with access to information and reports at the bedside. Patients can be assessed, in many cases, without transporting them to the larger cart-based machines.
Us2.AI – Increase speed and accuracy of your cardiac exam and eliminate operator variance. The Us2.ai software on the Kosmos is gathering data and delivering reports on cardiac function and valve disease -as the data is acquired. No waiting for answers or spending valuable time manually measuring.
Kosmos TRIO and EF – Kosmos Guidance, Grading, and Labeling of heart structures directs less experienced users to achieve optimal imaging planes and automated systolic function reports.
Availability – Use Kosmos as an ultraportable device, or wheel to the bedside on our space efficient AI stand. Kosmos is always ready and available.
Easy to Clean – We designed Kosmos for clinical scenarios where repeated cleaning is required. With this in mind feel free to clean the Kosmos Bridge and probes as frequently as you wish.
3 Signal Synchronization – For training purposes, the optional Torso Probe can display the image, ECG waveforms and digital auscultation on the screen simultaneously.
5-Year Warranty – The point of care environment can be hard on any product. We have you covered.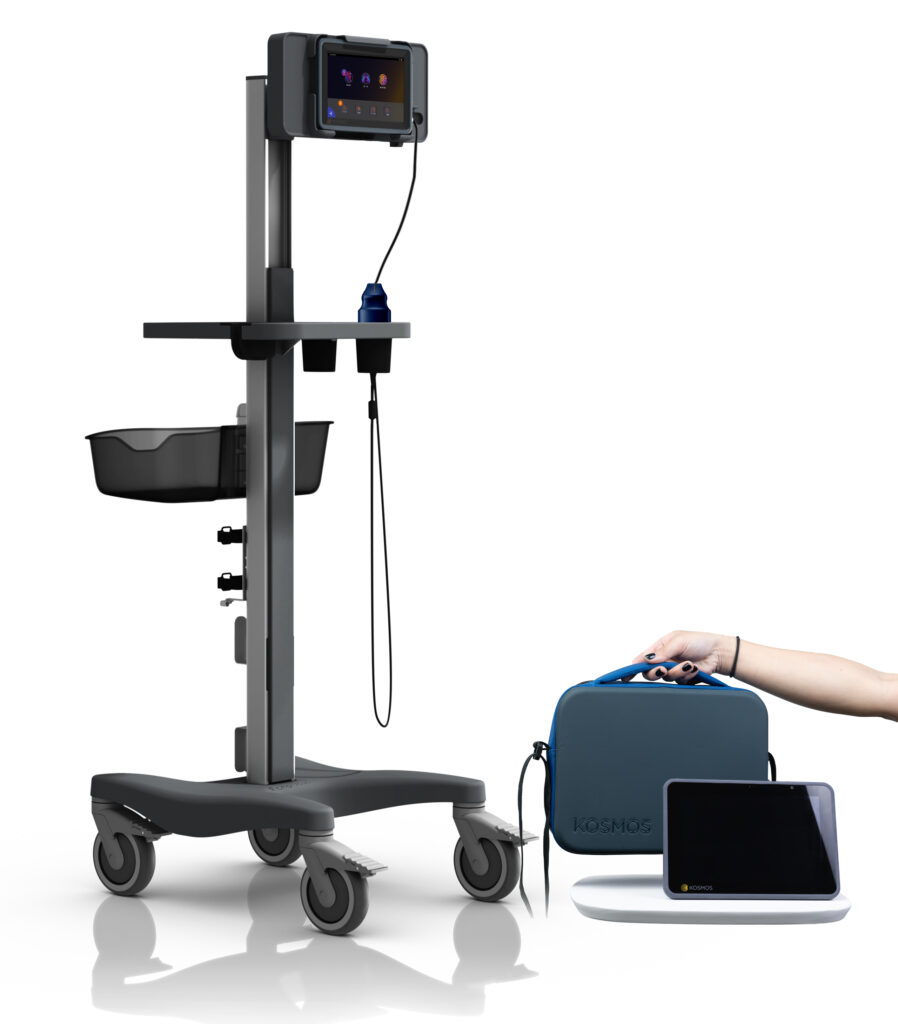 Preferred Configuration
Kosmos offers two options for Cardiology to suit user applications.
Torso-One Features and and Applications for Cardiology
2-5 MHz with 2D imaging, PW, TDI, and CW Spectral Doppler capabilities, along with Color Doppler. Small footprint for easier access of intercostal windows)
Assessments of cardiac function and valve disease with AI
Or
Torso Features and Applications for Cardiology
2-5 MHz with 2D imaging, PW, TDI, and CW Spectral Doppler capabilities, along with Color Doppler. Slightly larger footprint probe to incorporate ECG and Auscultation technology
Assessments of cardiac function with AI
Integrated ECG
Integrated digital auscultation
Apple iOS, Android tablets or Kosmos Bridge* for display
See Apple iOS and Android Tablet Compatibility
* Torso is only compatible with Bridge
Interchangeable for proprietary tablet, Android, and iOS tablets. Provides easy access to ultrasound essentials and the ability to secure the tablet to the stand.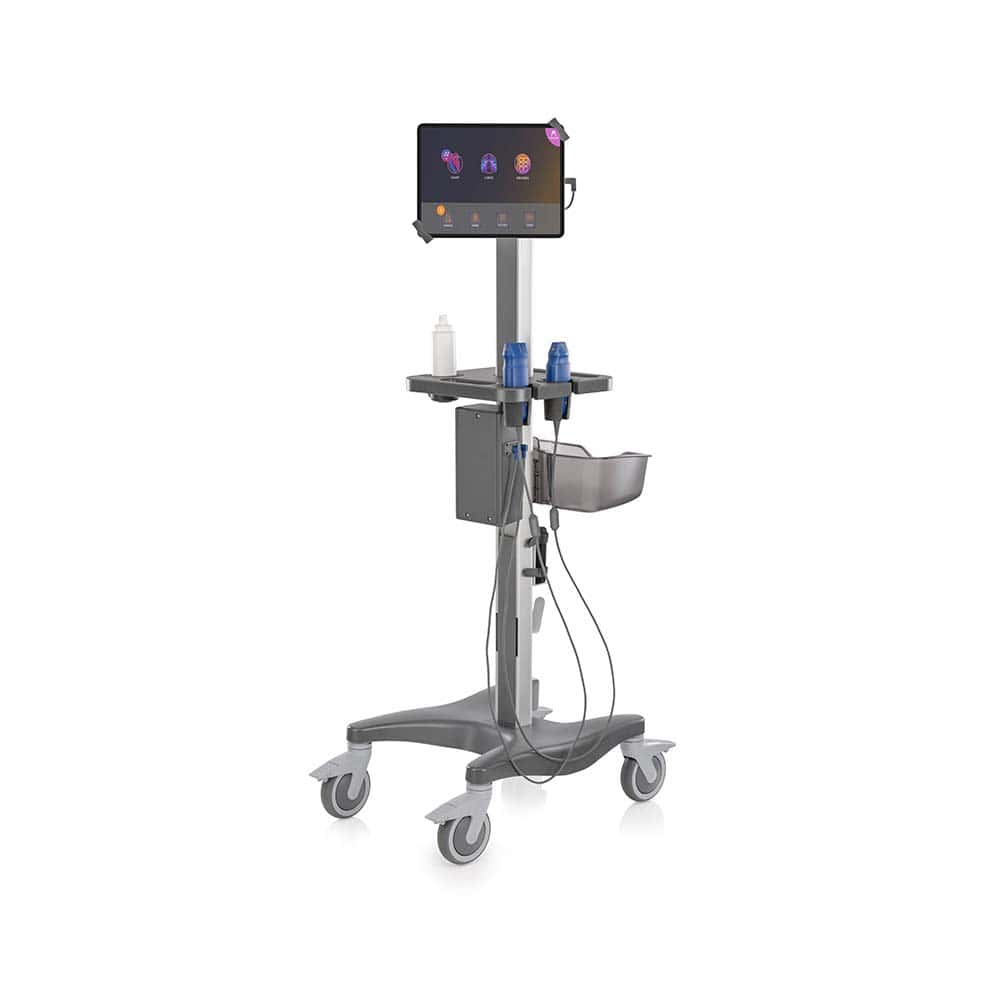 Compact protection for all your POCUS essentials. Kosmos essential carrying case holds your device, 2 probes, and a gel bottle.