The story of EchoNous begins in Redmond, Washington with its founding in 2016.
The name EchoNous translates in the English language to mean intelligent sound – with echo meaning sound and nous meaning intelligence. The name embodies the team's vision of adding the emerging field of artificial intelligence (AI) with extreme miniaturization of ultrasound and puts high level diagnostic tools in the hands of clinicians to help solve everyday problems in healthcare.
This founding belief continues to lead the growing EchoNous team, comprising of boundary pushing innovators from diverse domains such as healthcare, artificial intelligence, industrial design, manufacturing, and software engineering. From the holding of the probe to maneuvering a station of tools down the hallways of the hospital, our team applies a passionate, humanistic approach to medical technology that considers every patient and practitioner in product design. This ethos ensures our accessible, AI-driven imaging devices excel in their functions and empower nurses and physicians to succeed. 
Today, EchoNous is pioneering a new category in POCUS – the only one to offer top-tier image quality + AI fueled interpretations and cutting edge innovations at the point-of-care. With cart benchmarked quality and advanced feature sets such as PW, CW, Color Doppler, and TDI, previously only seen on larger more expensive systems, Kosmos ultraportable ultrasound is giving physicians a higher level of confidence in their bedside diagnosis. Kosmos plus Kosmos AI, is both intuitive and instructional guiding clinicians to acquire correct image orientations and provide previously complex cardiac analysis automatically in just seconds.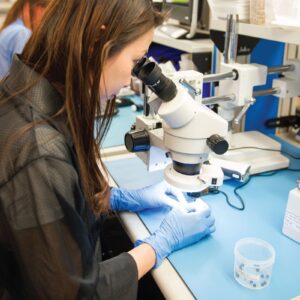 At the point-of-care, speed and accuracy are critical to patient management. The Kosmos Platform continues to evolve with the sole purpose of bringing both speed and accuracy at an accessible price point and bring meaningful solutions to problems facing point-of-care providers everyday.
We are proud and excited to create a vibrant and evolving ecosystem of thoughtfully designed tools for the healthcare communities – and its patients' most pressing needs.