POCUS in Nephrology
Ultrasound is used in Nephrology for both diagnostic and procedural applications and can be especially helpful in emergency situations. With the introduction of POCUS, the equipment is smaller, less complex and more affordable, so ultrasound has become more accessible for everyday use. While POCUS doesn't replace detailed exams by cardiologists and radiologists, it does offer daily opportunities to enhance the physical exam, facilitate a more timely diagnosis and expedite management by answering specific clinical questions and potentially reduce further diagnostic referrals.
Common uses of Ultrasound in Nephrology
Procedural
Guiding percutaneous procedures
Hemodialysis Catheter insertion
Renal Biopsy
Diagnostic
Evaluate renal structure
Renal vasculature and perfusion
Renal artery stenosis
Measurements of blood velocities and resistance
Assessment of Chronic kidney disease
Visualize IVC
Venous Congestion (VExUS)
Cardiac assessment
Cardiorenal syndrome
Kosmos Advantages in Nephrology
Top Tier Image Quality for Informed Decisions – Kosmos' no compromise image quality with easy anatomical presets, gives rapid access to examine the heart, abdomen or vascular structures.
Why Wait? – You can look, measure and decide on the spot. No need for in-house referrals for many of your diagnostic and monitoring requirements.
PW Doppler – Assess blood flow dynamics including VExUS at the bedside. Use of the phased array technology also gives easier access between the ribs.
CW Doppler – Kosmos capabilities go from a quick look at anatomy, to a full assessment and measurements of valvular pathology and cardiac function.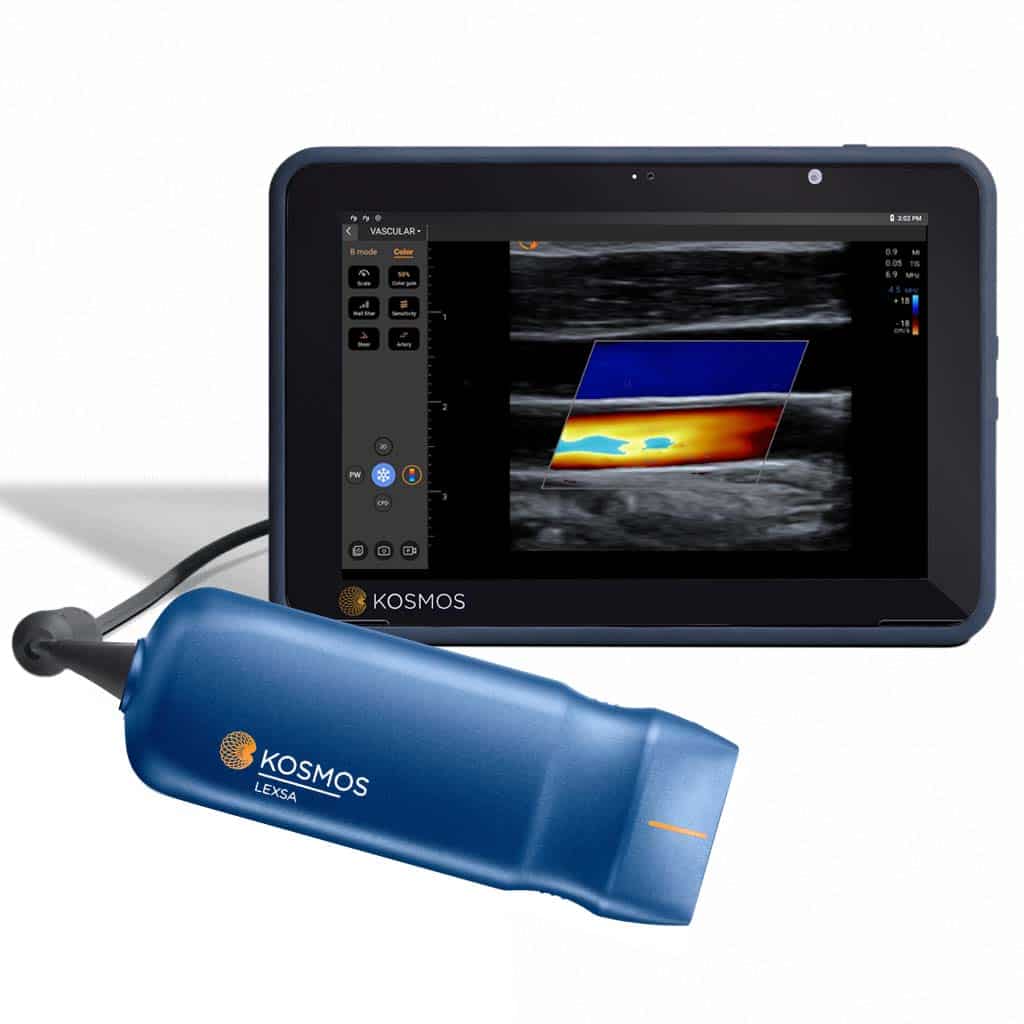 One Transducer for Multi-systemic Assessments – No need to change probes, the Torso-One is optimized to give you high level imaging, Color, PW and CW Doppler for cardiac and abdominal assessments.
Advanced Cardiac Capabilities – Assess valvular stenosis, pulmonary HTN, and estimation of cardiac filling pressures with imaging features like Continuous Wave Doppler and Tissue Doppler Imaging.
Kosmos AI – Use Auto EF to calculate ejection fraction using the gold standard. AI FAST labels upper quadrant and pelvic anatomy, so less experience users can be more confident in their examination of trauma patients.
Us2.ai – Kosmos partnered with Us2.ai software continually gathers data and delivers cardiac reports, as the images are acquired. No waiting for answers, or spending valuable time manually measuring cardiac function or valvular pathology.
Battery Life – Ninety minutes of continuous scanning time allows for reliability during critical times.

Availability –

Use Kosmos as a ultraportable device, or wheel to the bedside on our space efficient AI stand. Kosmos is always ready and available.
Easy to Clean – We designed Kosmos for clinical scenarios where repeated cleaning is required. With this in mind feel free to clean the Kosmos Bridge and probes as frequently as you wish.
5 Year Warranty – The point-of-care environment can be hard on any product. We have you covered.
Preferred Configuration
The following configuration provides comprehensive imaging and feature sets for Nephrology. In some clinical settings only one probe may be needed. Please contact EchoNous and we would be delighted to discuss your individual requirements.
Lexsa Features and Applications for Nephrology
4-11 MHz probe with compound imaging for high definition 
Pulsed Wave Doppler
Color Doppler 
Color Power Doppler
Vascular assessment
Lung imaging
Torso-One Features and Applications for Nephrology
2-5 MHz with 2D imaging, PW, TDI, and CW Spectral Doppler capabilities, along with Color Doppler
Cardiac imaging
Abdominal imaging
Assessment of venous congestion
Bladder
Apple iOS, Android tablets or Kosmos Bridge for display
Interchangeable for proprietary tablet, Android, and iOS tablets. Provides easy access to ultrasound essentials and the ability to secure the tablet to the stand.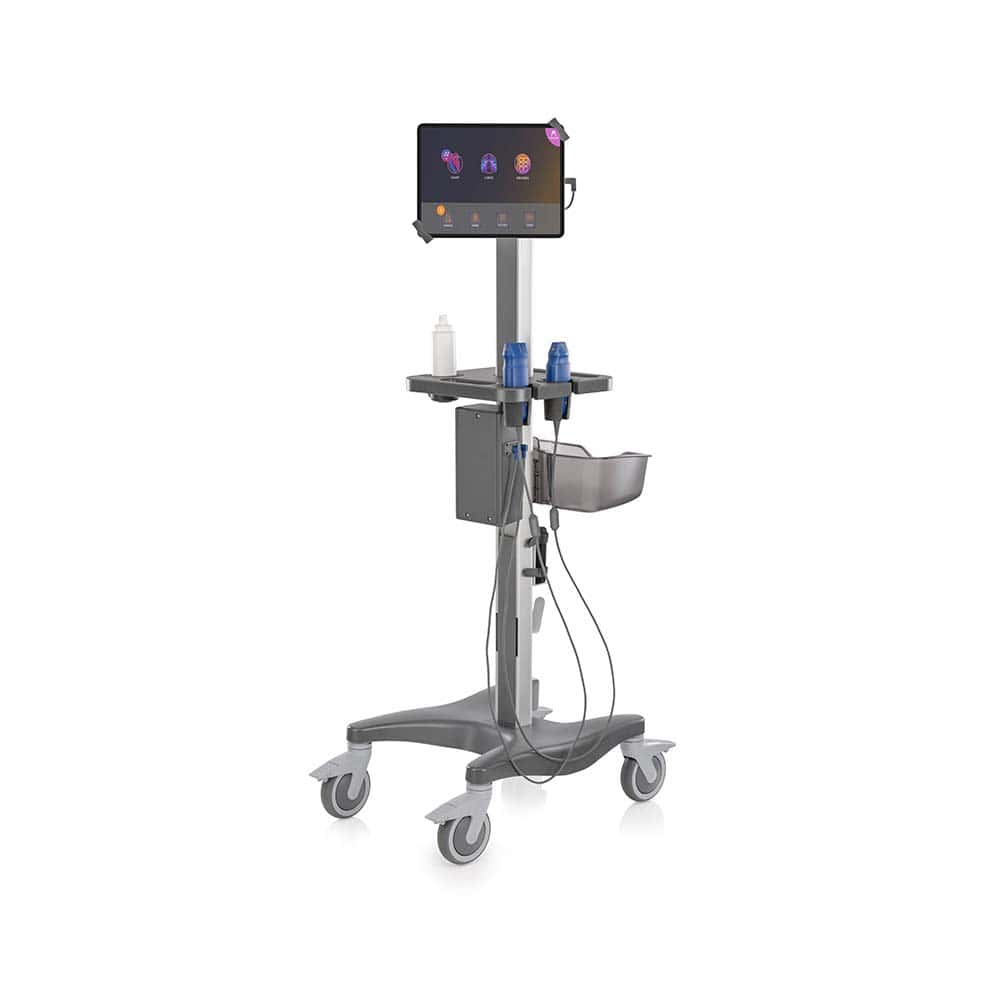 Compact protection for all your POCUS essentials. Kosmos essential carrying case holds your device, 2 probes, and a gel bottle.