POCUS in Emergency Medicine
With the ever-changing landscape of health care delivery, a greater proportion of patients are receiving their initial care and diagnostic testing in emergency department. Ultrasound is now an essential tool to expedite triage and time to diagnosis, decreasing morbidity and mortality in critically ill patients. Uses can range from a quick assessment to a more complete examination. It answers specific clinical questions, guides clinical therapy, and can directly impact patient management. Accessibility and availability is key to effective use of ultrasound for emergency medicine. With a new era of affordability and with AI capabilities becoming more available on POCUS, the use model continues to expand.
Common uses of POCUS in the ED (but not limited to):
eFAST – [Extended Focused Assessment with Sonography in Trauma] assessment for internal injuries in traumatic patients

RUSH exam

for

Undifferentiated Shock
PEA in cardiac arrest

AAA

Goal directed echocardiography

including IVC

Lung and Pleura

Gall Bladder and RUQ

  to evaluate acute cholecystitis 

Lung/pleural

– assessment of patients with respiratory failure, pneumothorax, pleural effusion

Renal exam

– management of acute kidney injury, urinary tract infection and kidney stones

Procedure guidance

that are required for treatment of critical illness or routine management of disease process including vascular access like central line placement (IJV, CFV), difficult peripheral arterial and venous catheter insertion, incision and drainage of abscess, arthrocentesis, airway management, thoracentesis, paracentesis, lumbar puncture

Deep Vein Thrombosis

(DVT)

Nerve blocks

.

Soft tissue/musculoskeletal imaging

– may diagnose some fractures, tendon injuries, and foreign body identification

Testicular exam

– cystic and solid lesions, testicular torsion
Kosmos Advantages in Emergency Medicine
Top -Tier Image Quality for Informed Decisions – Quickly – Kosmos' no compromise image quality with quick access presets, gives rapid access to heart, abdominal, lung, MSK and vascular applications.
Why Wait? – The only ultraportable device equipped with PW, TDI and CW Doppler, with an extensive cardiac calculation package so you can look, measure and decide. No need to pull to use a larger cart-based system for a more complete exam.
Procedural safety- Higher resolution compound imaging on Lexsa probe improves visualization of anatomy and needle path.
One Transducer for Multi-systemic Assessments – In emergency settings speed is essential. No need to change probes, the Torso-one provides imaging of heart, lung, abdomen and pelvis.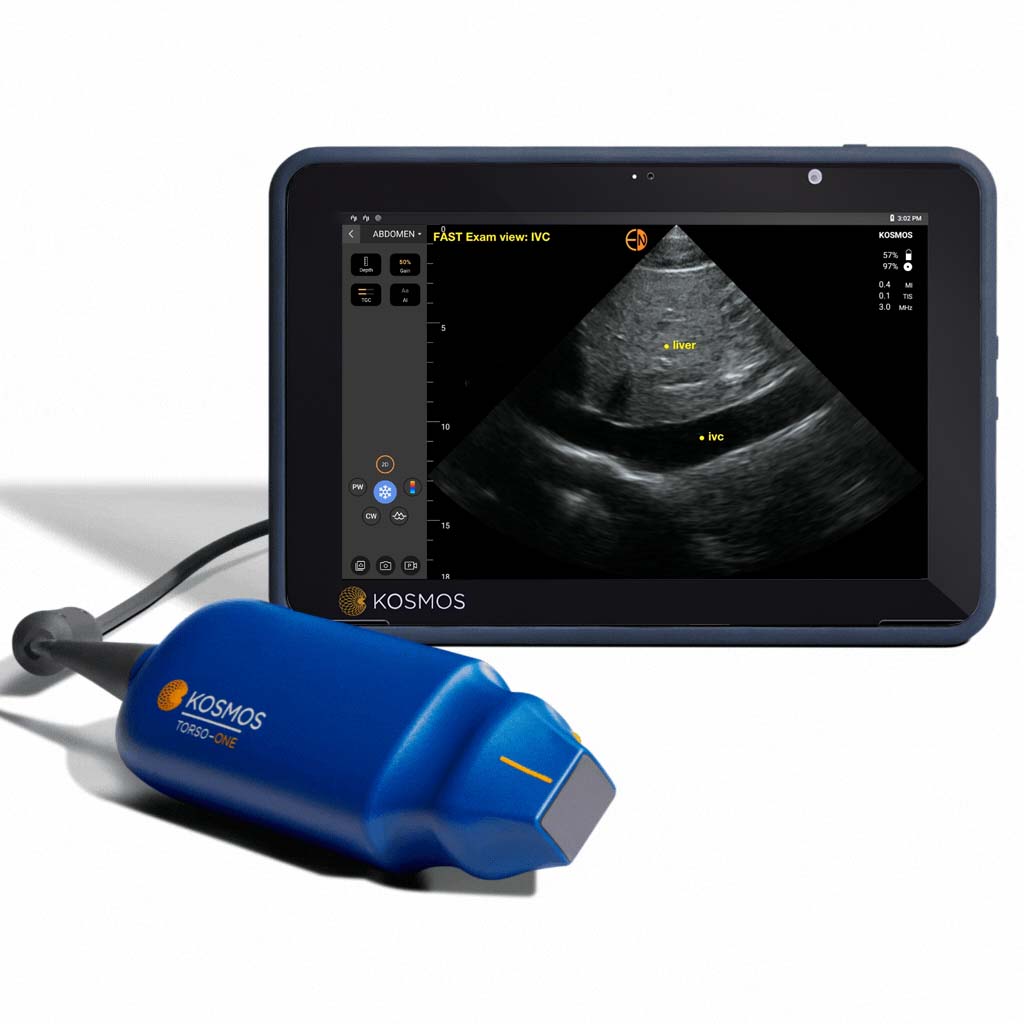 AI FAST – Labels upper quadrant and pelvic anatomy, so less experience users can be more confident in their examination of trauma patients.

Us2.ai –

Kosmos partnered with Us2.ai software continually gathers data and delivers cardiac reports, as the images are acquired. No waiting for answers, or spending valuable time manually measuring cardiac function or valvular pathology.
Kosmos TRIO and EF – AI driven Guidance, Grading and Labeling of the heart allows less experienced users achieve optimal imaging planes with automated cardiac function calculations. 
Only Ultraportable Device – With capabilities to assess valvular stenosis, pulmonary HTN, and estimation of cardiac filling pressures with imaging features like Continuous Wave Doppler and Tissue Doppler Imaging.
Battery Life- Ninety minutes of continuous scanning time allows for reliability during critical times.
Availability – Use Kosmos as an ultraportable device, or wheel to the bedside on our space efficient AI stand. Kosmos is easy to store and ready to go.
Easy to Clean – We designed Kosmos for clinical scenarios where repeated cleaning is required. With this in mind feel free to clean the Kosmos Bridge and probes as frequently as you wish.
5 Year Warranty – The rigors of the ED can be hard on any product. We have you covered.
Preferred Configuration
The following configuration provides comprehensive imaging and feature sets for Emergency Medicine. In some clinical settings only one probe may be needed. Please contact EchoNous and we would be delighted to discuss your individual requirements.
Lexsa Features and Applications for Emergency Medicine
4-11 MHz probe with compound imaging for high definition.
Pulsed Wave Doppler
Color Doppler
Color Power Doppler
Improved nerve imaging
Central line placements
Peripheral IV
Lung imaging
Torso-One Features and Applications for Emergency Medicine
2-5 MHz with 2D imaging, PW, TDI, and CW Spectral Doppler capabilities, along with Color Doppler
Cardiac imaging
Assessments of cardiac function and valve disease with AI
Assessment of venous congestion
eFAST (with AI)
Pelvis
Abdominal organs
AAA
IVC
Lung
Apple iOS, Android tablets or Kosmos Bridge for display
Interchangeable for proprietary tablet, Android, and iOS tablets. Provides easy access to ultrasound essentials and the ability to secure the tablet to the stand.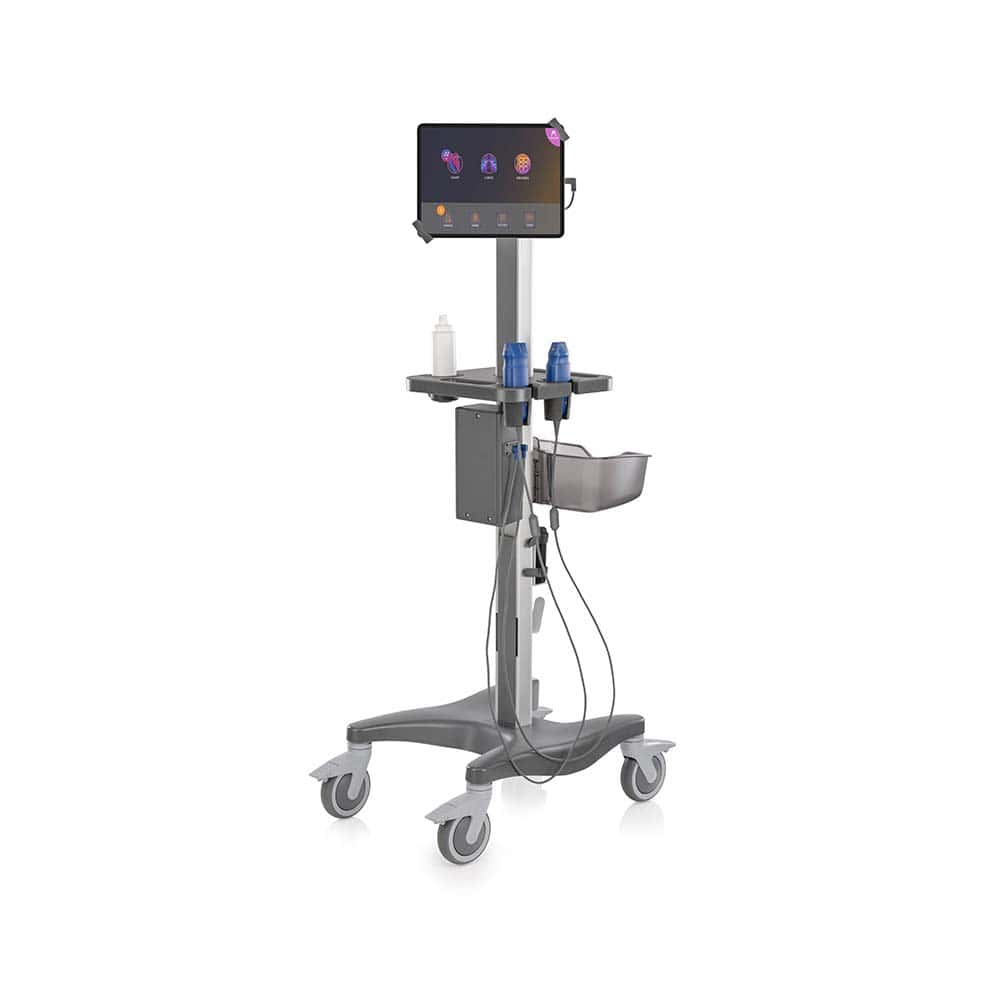 Compact protection for all your POCUS essentials. Kosmos essential carrying case holds your device, 2 probes, and a gel bottle.