Kosmos Software Solutions
Kosmos isn't just about top-tier handheld ultrasound system hardware. With our workflow solution software and strategic partnerships, Kosmos is pulling out all the stops in order to help solve more problems for point-of-care ultrasound users.
The Us2.ai software solution offers advanced echo workflows, interpretation and reporting to save time and reduce variability at the bedside. Read about how the Kosmos and Us2.ai integration can help novices screen for heart failure in this research article published by the Cleveland Clinic.
Reduced analysis time: from 20-40 minutes (human) to. 1.2 min (AI, software)
Improved accuracy: Core lab testing showed 0% variability in results
Highly accurate measurements: interchangeable with core lab trained sonographers measurements
Integrated into the Kosmos system via cloud or as an on-premise server
Operates in real time, continually acquiring data during the exam
Drives repeatability and reproducibility of key clinical measurements
Provides data to support evidence-based decision making
Reduces operator variability
Kosmos has now partnered with 19 Labs to deliver the most comprehensive tele-health solution available for point-of-care ultrasound users. With Kosmos integrated into the 19Labs Gale software, you not only get advanced tele-ultrasound with Kosmos, but all of the additional tele-health connections that 19Labs offers (glucose monitor, blood test, ECG, etc) as well. While other tele-ultrasound solutions only provide remote ultrasound collaboration, this comprehensive solution provides an even more complete picture of a patient's health from anywhere in the world.
HIPPA compliant
No limit in participants or number of visits
Add up to 100 guests to a remote ultrasound visit
Closed device: no other apps can be downloaded into the tablet for ultimate security
Customizable to your needs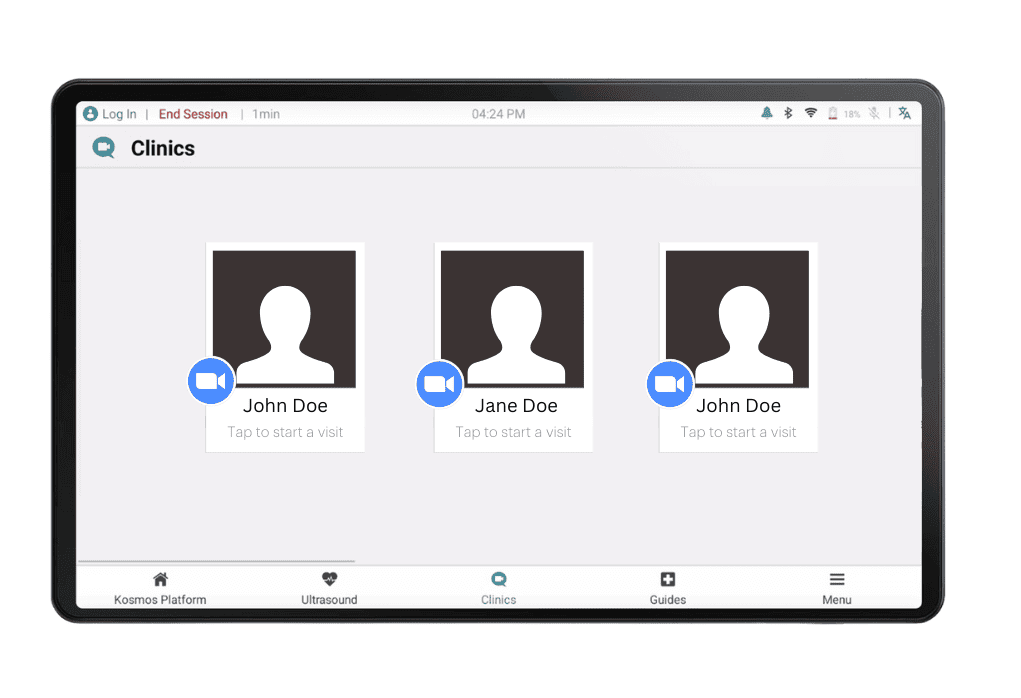 Kosmos Universal Platform
Kosmos Universal Platform (KUP) is our own vendor agnostic, HIPAA-compliant online ultrasound workflow solution that has the ability to facilitate image archival, perform user metrics, complete reporting and simplify QA, all in the name of streamlining the point-of-care ultrasound user workflow.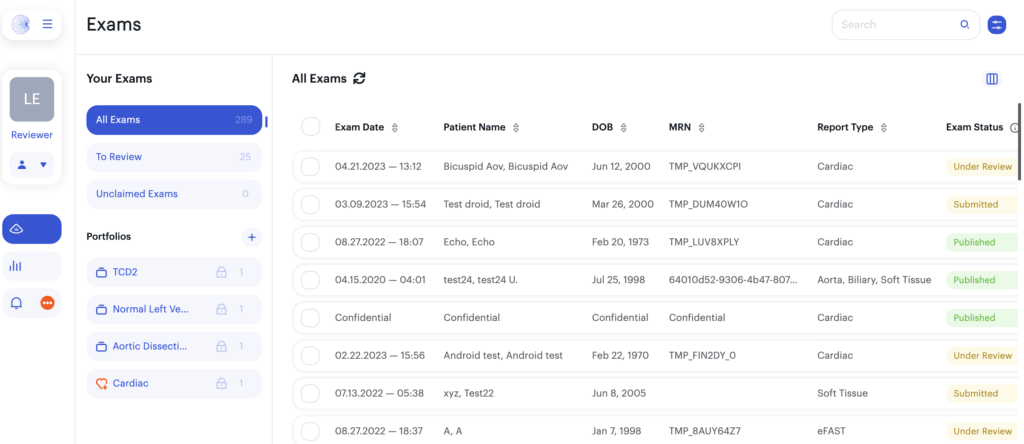 Image Archiving
Store, share, and label exams
Store exams
Create and share portfolios
Add labels to exams to optimize future searches
Review and report on images in the same system
Quality Assurance
Track, comment, and edit images
Track progress of exam submissions through QA review
Provide Feedback on individual images
Edit image reports for accuracy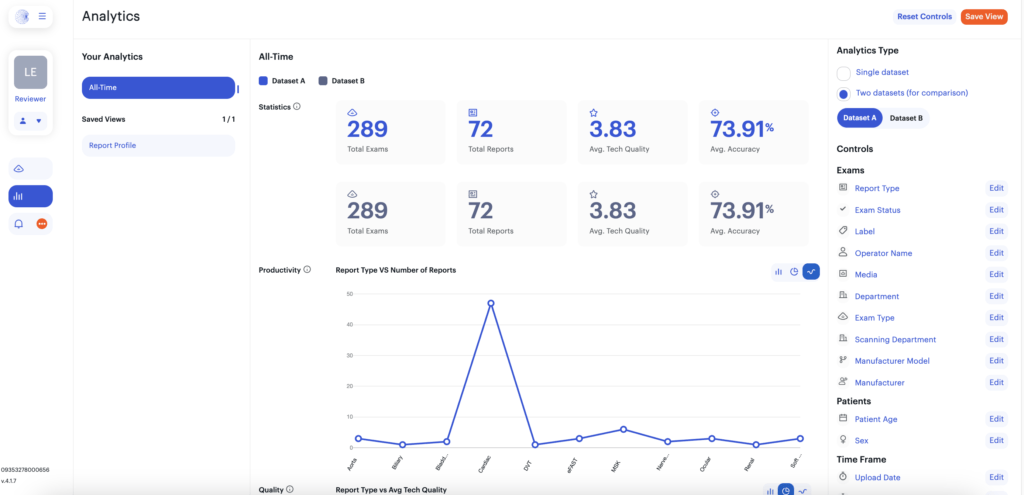 Performance Analytics
Track performance and facilitate research
Track performance analytics at individual and group levels
Filter data for research
Create QA reports
*Us2.ai is a third party provided software by EchoNous. EchoNous therefore disclaims any and all liability, including any express or implied warranties, whether oral or written, for US2.AI services. By purchasing Us2.ai's products or services, customers acknowledge that no representation has been made by EchoNous as to the fitness of the third-party services for the intended purpose. All Us2.ai software purchased by customer is governed by the Terms of Use, warranties and disclaimers published by US2.AI. https://us2.ai/terms-conditions/
*19Labs is a third party provided software by EchoNous. EchoNous therefore disclaims any and all liability, including any express or implied warranties, whether oral or written, for19 Labs services. By purchasing 19Labs' products or services, customers acknowledge that no representation has been made by EchoNous as to the fitness of the third-party services for the intended purpose. All 19Labs software purchased by customer is governed by the Terms of Use, warranties and disclaimers published by 19Labs. Any questions regarding the 19Labs Terms of Use should be brought directly to 19Labs at: info@19labs.com