Ultrasound in Anesthesiology
Ultrasound has changed the way many anesthesiologists practice medicine. It is well documented that ultrasound visualization reduces complications, increases patient satisfaction and improves outcomes when placing central lines or performing Nerve Blocks and it has a valuable role to play in surgery and peri-operative assessments. One of the limiting factors in the adoption of new techniques for anesthesiology is the learning curve, particularly when it comes to cardiac scanning in peri-operative assessment. New AI technologies can help with this.
Ultrasound uses include, but are not limited to:  
Vascular access
Peripheral IV's
Arterial Lines
Regional Nerve Blocks (Upper, Lower)  
Pain Management (Chronic and Acute)  
Perioperative POCUS 
Thoracentesis & Paracentesis  
IVC – Fluid Responsiveness  
Gastric contents and volume
Lung evaluation   
Endo-tracheal tube placement – airway management
Kosmos Advantages in Anesthesiology
Excellent Image Resolution –

Kosmos no compromise image quality provides detailed anatomical information for procedural use and peri-operative assessments.

Optimized Presets –

Kosmos can be optimized for lung, nerve, vascular, heart and abdominal anatomy, with easy access to automated presets.

Procedural Safety – 

Compound imaging on Lexsa provides improved visualization of anatomical structures and the needle path. 

Peri-operative Assessment – Cardiac and abdominal imaging with one probe, with advanced feature sets for complete peri-operative assessment.
US2.AI –  For Peri-operative assessment, US2.AI software on the Kosmos gathers data and delivers automated reports for cardiac function and valve disease as the data is acquired and eliminates operator variance. No waiting for answers, or spending valuable time manually measuring.

Kosmos TRIO –

Kosmos AI-driven Guidance, Grading, and Labeling of the heart, ensuring that even less experienced users can confidently achieve optimal imaging planes, enabling accurate measurements
AI for Systolic Cardiac Function – Achieve an automatic report of EF and SV in seconds. 
Availability – Use Kosmos as a ultraportable device, or wheel to the bedside on our space efficient AI stand. Kosmos is always ready and available. 
Easy to Clean – Use Kosmos in situations where cleaning can take larger systems out of action.
5-Year Warranty – The point-of-care environment can be demanding on any product . We have you covered.
Battery Life –  Ninety minutes of continuous scanning time allows for reliability during critical times.
HIPAA compliant
Preferred Configuration
The following configuration provides comprehensive imaging and feature sets for Anesthesiology. In some clinical settings only one probe may be needed. Please contact EchoNous and we would be delighted to discuss your individual requirements.
Lexsa Features and Applications for Anesthesiology
4-11 MHz probe with compound imaging for high definition
PW Doppler
Color Doppler
Color Power Doppler
Superficial nerve blocks
Central line placements
Peripheral IV
Lung imaging
Torso-One Features and Applications for Anesthesiology
2-5 MHz with 2D imaging, PW, TDI, and CW Spectral Doppler capabilities, along with Color Doppler
Cardiac imaging
Assessments of cardiac function and valve disease with AI
Assessment of venous congestion
Gastric contents
IVC
Apple iOS, Android tablets or Kosmos Bridge for display
Interchangeable for proprietary tablet, Android, and iOS tablets. Provides easy access to ultrasound essentials and the ability to secure the tablet to the stand.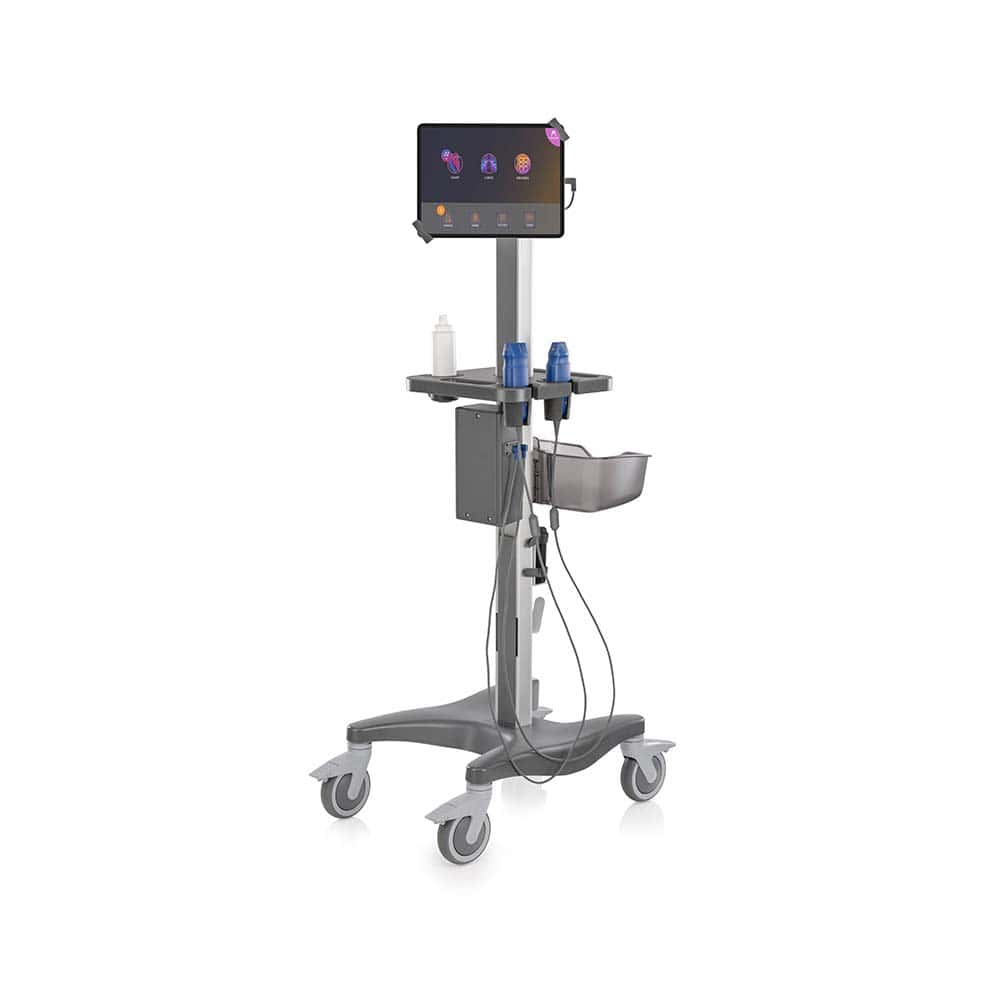 Compact protection for all your POCUS essentials. Kosmos essential carrying case holds your device, 2 probes, and a gel bottle.