Family Medicine &
Primary Care
POCUS in Family Medicine & Primary Care
It has been well documented that the use of ultrasound enhances the physical exam by providing additional information to make more informed clinical decisions, improve patient care and increase patient satisfaction. It can also play a role in reducing costs associated with referrals for advanced imaging. For family medicine and primary care providers needs can vary according to the remoteness of the practice, sometimes needing to take on a more emergency type role. Examinations can range from simple rule-in examinations, such as Gallstones or AAA, to a more comprehensive expansion of the physical exam. The availability of smaller, less expensive POCUS devices is expanding the interest in offering ultrasound services in family medicine and primary care practices. The advantages of Kosmos AI can help reduce the learning curve and expand the potential uses in the family medicine and primary care environment. 
Common Uses of POCUS in Family Medicine & Primary Care (but not limited to):
Enhance the physical exam
Gallstones
Free Fluid
AAA
Heart Failure
Procedural
Foreign body
eFAST
PEARLS (parasternal, epigastric, Anterior Lung, Rt upper quadrant, Lt upper quadrant and Suprapubic).
Kosmos Advantages in Family Medicine & Primary Care
Top Tier Image Quality for Informed Decisions- Kosmos' no compromise image quality with anatomical presets, gives rapid access to heart, abdominal, lung, MSK and vascular applications.
Procedural Safety-  Compound imaging on the Lexsa probe provides improved visualization of the anatomy and needle path.
One Transducer for Multi-systemic Assessments – Reduce costs and complexity with a single probe to examine the whole torso.
Affordability – With flexible payment options Kosmos can be purchased to fit your preferred payment plans.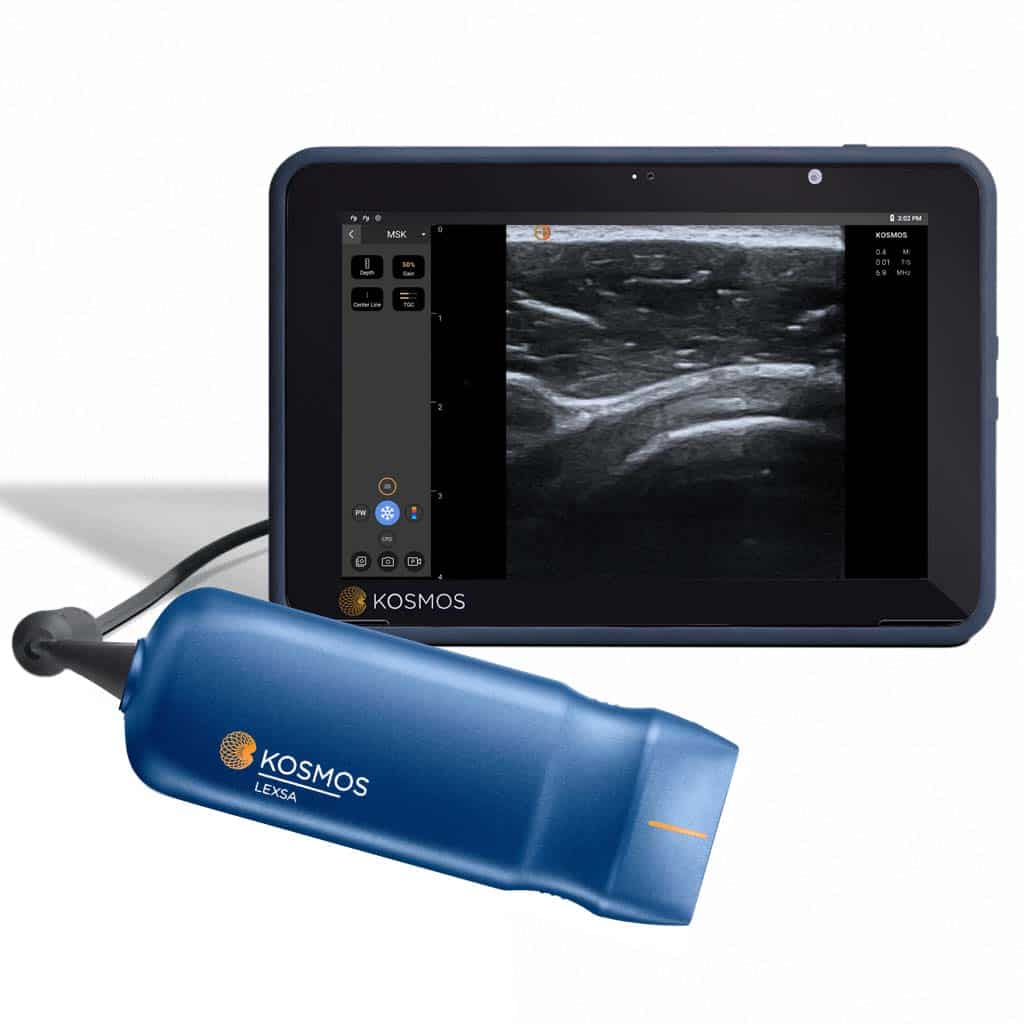 AI FAST – Labels upper quadrants and pelvic anatomy, so even less experience users can be more confident in their diagnosis.
Kosmos TRIO and EF – AI driven Guidance, Grading and Labeling of the heart, allows less experienced users achieve optimal imaging planes and perform complex calculations of cardiac function.
Assess Heart Disease with Us2.ai Software – The Us2.ai software on Kosmos gathers data and delivers automated cardiac reports for cardiac function and valve disease, as the data is acquired. No waiting for answers or spending valuable time performing manual measurements.
Battery Life – Ninety minutes of continuous scanning time allows for reliability during critical times.
Availability – Use Kosmos as a ultraportable device, or it will fit into a small office space on the compact AI stand.
Easy to Clean – We designed Kosmos for clinical scenarios where repeated cleaning is required. With this in mind feel free to clean the Kosmos Bridge and probes as frequently as you wish.
5 Year Warranty – Point-of-care use can be hard on any product. We have you covered.
Preferred Configuration
The following configuration provides comprehensive imaging and feature sets for Family Medicine and Primary Care. In some clinical settings only one probe may be needed. Please contact EchoNous and we would be delighted to discuss your individual requirements.
Lexsa Features and Applications for Family Medicine & Primary Care 
4-11 MHz probe with compound imaging for high definition
Pulsed Wave Doppler
Color Doppler
Color Power Doppler
Foreign body
MSK
Lung imaging
Vascular
Torso-One Features and Applications for Family Medicine & Primary Care
2-5 MHz with 2D imaging, PW, TDI, and CW Spectral Doppler capabilities, along with Color Doppler
AAA
Cardiac imaging
eFAST (with AI)
Pelvis
Abdominal organs
Lung
Apple iOS, Android tablets or Kosmos Bridge for display
Interchangeable for proprietary tablet, Android, and iOS tablets. Provides easy access to ultrasound essentials and the ability to secure the tablet to the stand.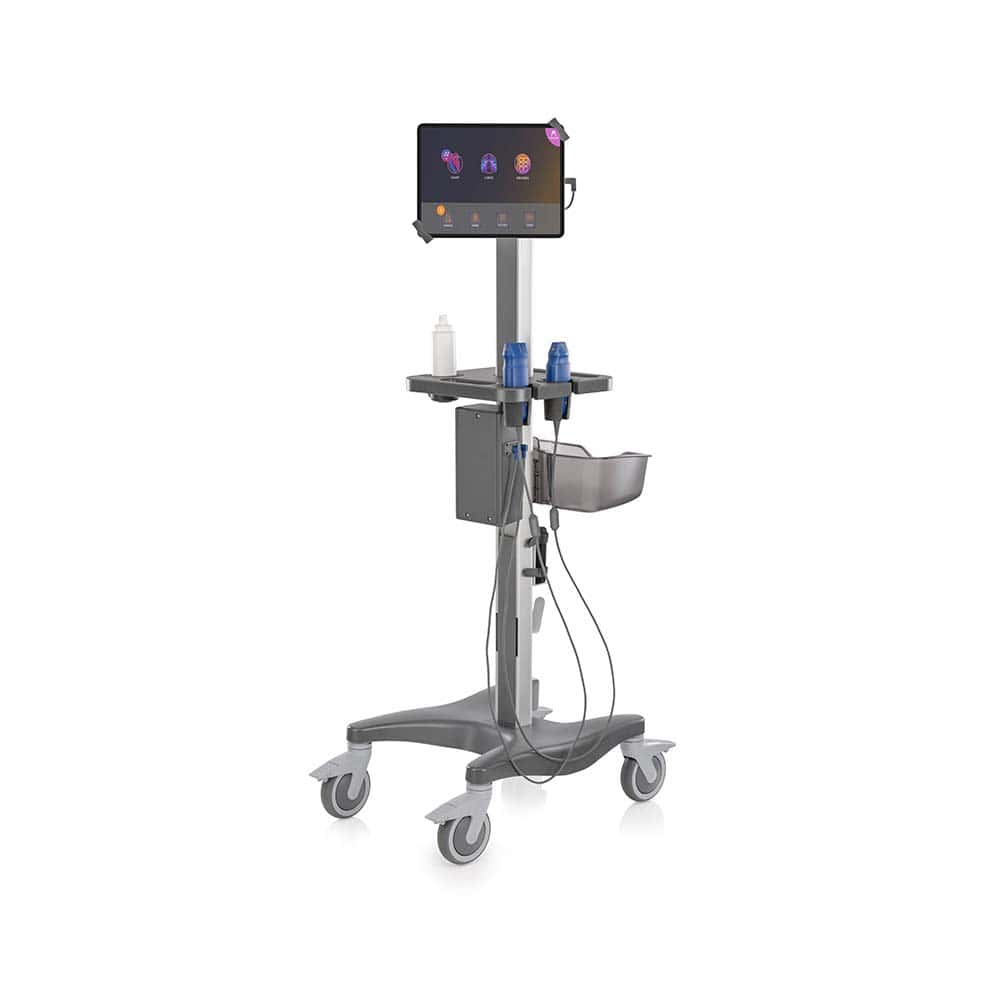 Compact protection for all your POCUS essentials. Kosmos essential carrying case holds your device, 2 probes, and a gel bottle.